Solar Repair
---
For fast reliable services call Redline Electric & Solar at 480-430-1939.
Parts & labors warranties

Outstanding certifications & satisfaction guaranteed
---
Solar Panel Repair in Tempe, AZ.
Redline Electric & Solar provides industry-leading Solar Repair services in Tempe, Arizona. To get started, give us a call at
480-430-1939
or submit an online request form.
---
Solar panels and repairs are becoming increasingly popular in Tempe, Arizona. With the city's close proximity to the desert environment, many homeowners are turning to solar energy as a reliable source of renewable power for their homes. Solar panels can be installed on rooftops or integrated into existing structures such as a patio cover or carport.
Once installed, solar panels require minimal maintenance and repairs are usually minor as well. However, when issues do arise, they need to be addressed quickly in order to ensure optimal performance of the system. This article will provide an overview of solar panel benefits and repair services available in Tempe, AZ.
Benefits of Utilizing Solar Panels in Tempe, AZ
Tempe, AZ is one of the best places in the US to install solar panels. With over 250 days of sunshine every year and an abundance of open land, Tempe offers ideal conditions for solar power generation. Some of the top benefits that homeowners and businesses can enjoy when they opt to invest in solar panels include: lower energy bills, increased home value, tax credits, reduced carbon footprint, and long-term savings.
Installing solar panels in Tempe can provide numerous financial benefits. Homeowners can save money each month on their electricity bills since they will be using solar energy to power their home. Solar panels are also a great way to increase the value of your home. Installing solar panels on a home can often increase its market value by up to 4%, which is a great return on investment.
Not only are solar panels beneficial financially, but they also help to reduce carbon emissions and protect the environment. Solar energy is a renewable resource and does not produce any harmful emissions, making it one of the best options for clean energy production. Additionally, solar energy is not subject to price fluctuation, meaning it will remain the same over time.
Solar panels allow you to generate electricity from the sun's energy and can be used to power your home by connecting to the existing electrical grid. You will be able to save on your electricity bills while you are reducing your carbon footprint.
Types of Solar Panel Repairs Available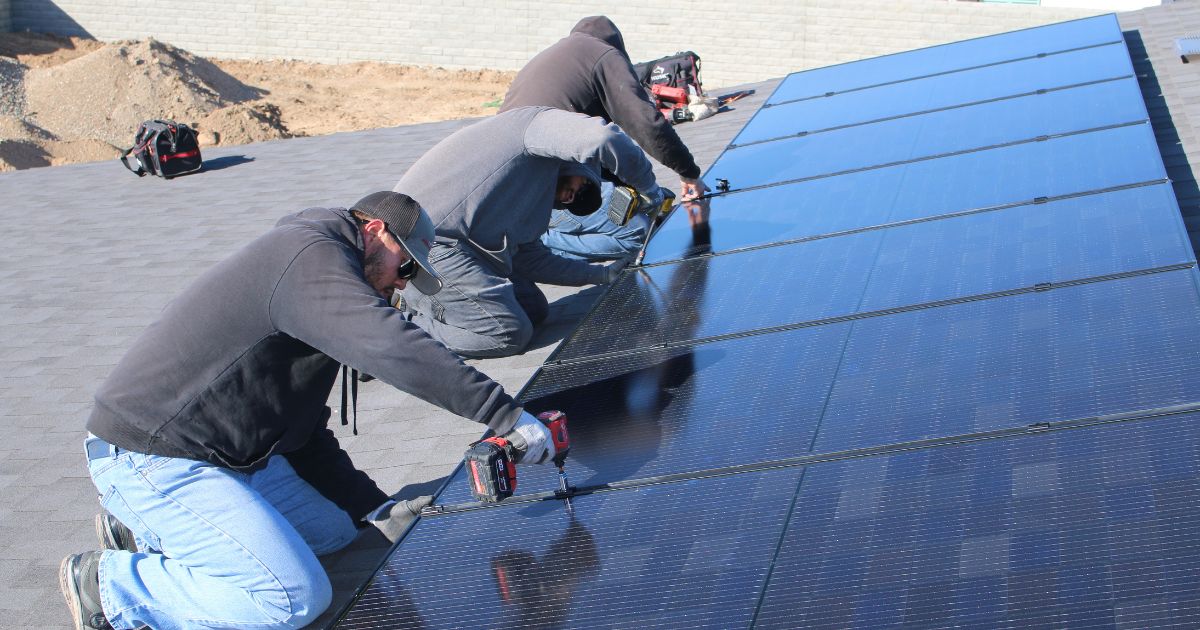 Here in the greater Phoenix area, there are a variety of solar panel repair services available to homeowners and businesses. These include repairs for all types of solar panel systems, such as ground-mounted, roof-mounted, and freestanding. Repair services range from minor repairs to full system replacements and upgrades.
For minor repairs, our Redline Electric & Solar technicians can diagnose and repair common issues like power output decreases, loose connections, and damaged wiring. In addition, technicians can inspect and clean solar panels, check for damaged or corroded components, and replace any parts that have failed.
For more extensive repairs, technicians can replace large portions of the system or install a completely new system. This includes replacing inverters, charge controllers, and power optimizers. They can also help with the design and installation of new systems, including ground-mounted or roof-mounted solar panels.
Signs You Need for a Solar Panel Repair in Tempe, AZ
Check the condition of your solar panels
Visually inspect your solar panels for any signs of damage such as broken glass, discoloration, or cracked frames. If you notice any damage, it is likely time to repair your solar panel system.
Assess energy output
Look at the energy output from your solar panels over time. If you notice a significant drop in performance, it could be an indication that something is wrong and you may need to repair your system.
Have a qualified Redline Electric & Solar technician inspect the system
A professional technician from Redline can help you identify any problems with your solar panel system and advise you on the best course of action.
Get an estimate for repair costs
Once you know the extent of the damage to your solar panels, contact us to get a prompt and reliable estimate for the cost of the repairs.
Choose a reputable solar panel repair service
Before hiring a solar panel repair service, be sure to do your research and choose a company that is well-established in the industry and has a good reputation. Redline Electric & Solar is certified by NABCEP and is licensed and insured. We provide a complete range of solar services for both residential and commercial properties. Our skilled and experienced technicians will ensure that you do not remain powerless for very long!
Contact Redline Electric & Solar for Solar Panel Repair Today!
Redline Electric & Solar is a leader in solar panel repair services, with experienced and certified technicians who have been working with solar power for over 10 years. We understand the complexities of solar panel repair and can provide you with reliable, cost-effective solutions that are tailored to your needs. Our team of experts is committed to providing high-quality services, and we use advanced tools and technology to get the job done right.
---
Give us a call at 480-430-1939 to submit an online request form to get started with your solar or electrical services with Redline.
---
---
Frequently Asked Questions
---
Our Latest Projects
---
We've been staying busy helping homeowners in Tempe, Arizona and the surrounding areas generate their own power, lower their utility bills, and create a more sustainable future. 
Ratings & Reviews
Check Out Our 5-Star Reviews!
---
"I had several outlets that were suddenly without power. I checked the breaker. No problem there. Checked the outlets and couldn't find a problem. Redline Electric & Solar sent Rick out who diagnosed and fixed the problem. Good guy. Good price. Good company. Good result."

"Redline Electric & Solar provided the services as outlined in the quote. The technician showed up on time and was very professional and cordial. I like the fact that they give the customers whatever it they want done. I will definitely be using them again for future projects."

"I have been with Redline Electric & Solar for a number of years ranging from a smartflower system to panels. They are very responsive to my needs and highly recommend to anyone who wants to improve their home with reusable energy."

"All staff (and field personnel) were friendly and knowledgeable. When technician availability got squeezed, rather than making me wait for a custom fabricated generator-to-subpanel cable, their office reached out to offer direct pricing links to their suppliers to have one shipped directly to me. Above and beyond!"

"Great service and people. Thanks for doing a great job replacing our electrical panel. I'm no longer concerned about my house losing power. Would highly recommend again."

I was very pleased with my experience with Redline Electric. They were on time and had excellent communication across the board; from the estimator, schedulers, and technicians. Would definitely recommend and will use them again.

We hired Redline Electric to come in and add more electrical outlets to support our incoming equipment. The team was responsive and booked us for the next day! Thank you for your help & we look forward to working with you again!

Quick response, analyzed my problem same day and proposed both short-term and long-term fixes. Prices quoted for each option were 30-to-40% lower than the big-name company I had look at it first. Work was done next day and the tech showed me all the replaced parts and reasons for their replacement. I was extremely satisfied and will use them from now on for sure.