Electrical Panels
---
For fast reliable services call Redline Electric & Solar at 480-430-1939.
Parts & labors warranties

Outstanding certifications & satisfaction guaranteed
---
Top-Rated Electrical Panel Services in Tempe, Arizona
Redline Electric & Solar provides industry-leading Electrical Panels services in Tempe, Arizona. To get started, give us a call at
480-430-1939
or submit an online request form.
---
If you're in the market for exceptional, trustworthy, and high-speed electrical panel services in Tempe, AZ, look no further. Redline Electric & Solar is your perfect ally for every electrical necessity. We deliver unrivaled expertise in the installation, maintenance, and repair of electrical panels, ensuring a smooth, secure, and uncomplicated experience for our clientele in Tempe and the neighboring Arizona regions.
As local specialists in electrical services, Redline Electric & Solar is a first-rate choice for electrical panel services in Tempe. Our team is well-versed in Arizona's electrical codes, and we're recognized for our superior customer service. Our dedicated crew of qualified electricians is prepared to manage electrical panel projects of all scopes, providing you with complete satisfaction with each job we undertake.
Why Opt for Redline Electric & Solar for Electrical Panel Services in Tempe, AZ?
In the area of Tempe, AZ, our electrical panel services are unrivaled. Redline Electric & Solar boasts a team of insured and certified electricians, offering complete electrical solutions that focus on your safety and comfort. We provide:
Electrical Panel Installation: Require a new electrical panel for your property? We provide long-lasting, code-compliant installations tailored to your home or business's unique demands.
Electrical Panel Maintenance: Regular upkeep helps avert unforeseen malfunctions, extends your panel's lifespan, and encourages energy efficiency. Our preventative maintenance service aims to keep your system working at optimal levels.
Electrical Panel Repair: If your electrical panel has issues, our expert electricians in Tempe, AZ, can identify and fix the problem promptly and effectively, minimizing disruptions and averting potential safety risks.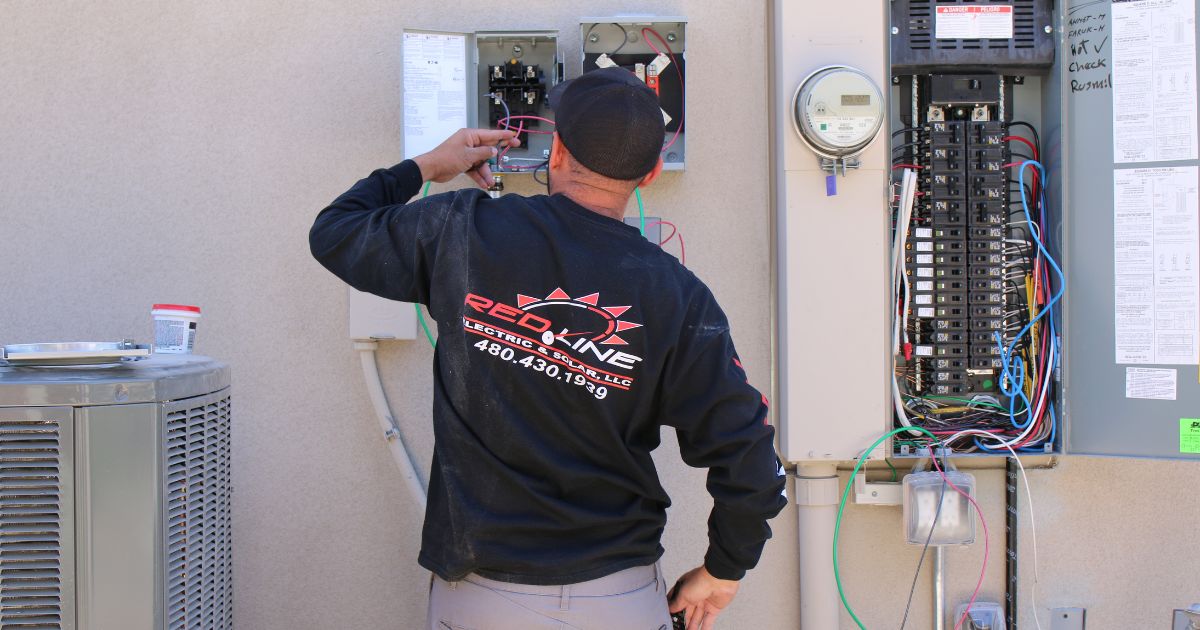 Experience Redline Electric & Solar's Exceptional Service
Redline Electric & Solar distinguishes itself through a commitment to excellence, customer fulfillment, and green practices. Our solar energy options, together with our unparalleled electrical panel services in Tempe, make us a forerunner in the electrical industry and a reliable option for both residential and commercial clients.
We take pride in our clear pricing, swift service, and a team of dedicated electricians who regularly undertake training to remain current with the newest electrical technologies and safety guidelines.
Rely on the Experts for Electrical Panel Services in Tempe
Choosing Redline Electric & Solar means selecting quality, safety, and expertise. We comprehend the significance of a fully operational electrical panel in your home or business, and we're committed to delivering outstanding electrical panel services that surpass your anticipations.
Our 24/7 emergency services ensure you're never stranded, and our capable team is always on hand to tackle your electrical needs, whether it's a basic repair or a complex installation.
Connect with Redline Electric & Solar Today!
When you require trustworthy electrical panel services in Tempe, AZ, rely on Redline Electric & Solar to provide top-tier solutions every time. We take pride in serving our community with superior electrical services while also endorsing energy-efficient and sustainable practices.
To schedule a service or to get more information about our electrical panel services in Tempe, AZ, contact us today or complete our online form. Enjoy the tranquility that comes from teaming up with Tempe's most reliable electrical service provider – Redline Electric & Solar.
---
Give us a call at 480-430-1939 to submit an online request form to get started with your solar or electrical services with Redline.
---
---
Our Latest Projects
---
Our team can handle an array of residential and commercial electrical projects. No matter if you are needing a new generator, or looking to illuminate your office space, Redline Electric & Solar is the right call!
Ratings & Reviews
Check Out Our 5-Star Reviews!
---
"I had several outlets that were suddenly without power. I checked the breaker. No problem there. Checked the outlets and couldn't find a problem. Redline Electric & Solar sent Rick out who diagnosed and fixed the problem. Good guy. Good price. Good company. Good result."

"Redline Electric & Solar provided the services as outlined in the quote. The technician showed up on time and was very professional and cordial. I like the fact that they give the customers whatever it they want done. I will definitely be using them again for future projects."

"I have been with Redline Electric & Solar for a number of years ranging from a smartflower system to panels. They are very responsive to my needs and highly recommend to anyone who wants to improve their home with reusable energy."

"All staff (and field personnel) were friendly and knowledgeable. When technician availability got squeezed, rather than making me wait for a custom fabricated generator-to-subpanel cable, their office reached out to offer direct pricing links to their suppliers to have one shipped directly to me. Above and beyond!"

"Great service and people. Thanks for doing a great job replacing our electrical panel. I'm no longer concerned about my house losing power. Would highly recommend again."

I was very pleased with my experience with Redline Electric. They were on time and had excellent communication across the board; from the estimator, schedulers, and technicians. Would definitely recommend and will use them again.

We hired Redline Electric to come in and add more electrical outlets to support our incoming equipment. The team was responsive and booked us for the next day! Thank you for your help & we look forward to working with you again!

Quick response, analyzed my problem same day and proposed both short-term and long-term fixes. Prices quoted for each option were 30-to-40% lower than the big-name company I had look at it first. Work was done next day and the tech showed me all the replaced parts and reasons for their replacement. I was extremely satisfied and will use them from now on for sure.