Generators
---
For fast reliable services call Redline Electric & Solar at 480-430-1939.
Parts & labors warranties

Outstanding certifications & satisfaction guaranteed
---
Generator Repair & Installation in Tempe
Redline Electric & Solar provides industry-leading Generators services in Tempe, Arizona. To get started, give us a call at
480-430-1939
or submit an online request form.
---
Standby Generator Services in Tempe, AZ
Redline Electric & Solar is a leading provider of generator installation and repair services in Tempe, AZ. With years of experience in the field, we have the knowledge and skill to install or repair any type of generator. We specialize in residential, commercial, industrial, and RV generators. Our experienced team of certified electricians can provide comprehensive services, ranging from installation to troubleshooting and repair.
We understand the importance of having reliable power for your home or business, and we strive to provide the best customer service. We offer competitive prices, quality products, and exceptional workmanship. Whether you need a generator installed, repaired, or serviced, Redline Electric & Solar is here to help.
Types of Generators
Redline Electric & Solar can provide expert advice and installation for several different kinds of generators, such as standby or portable generators. We want you to feel confident that your home is protected from power outages, regardless of which option you choose. We have the highest quality parts and products, so you can trust that your generator will be reliable when you need it.
The most common type of home generator is a standby generator. Standby generators are permanently installed outside your home and connected to an existing power source. They will automatically detect an outage, and turn on immediately to provide power to your home.
Standby generators are the most reliable option for emergency backup power, and they are available in a variety of sizes and fuel types, to suit any residential power needs.
Factors to Consider in Choosing a Generator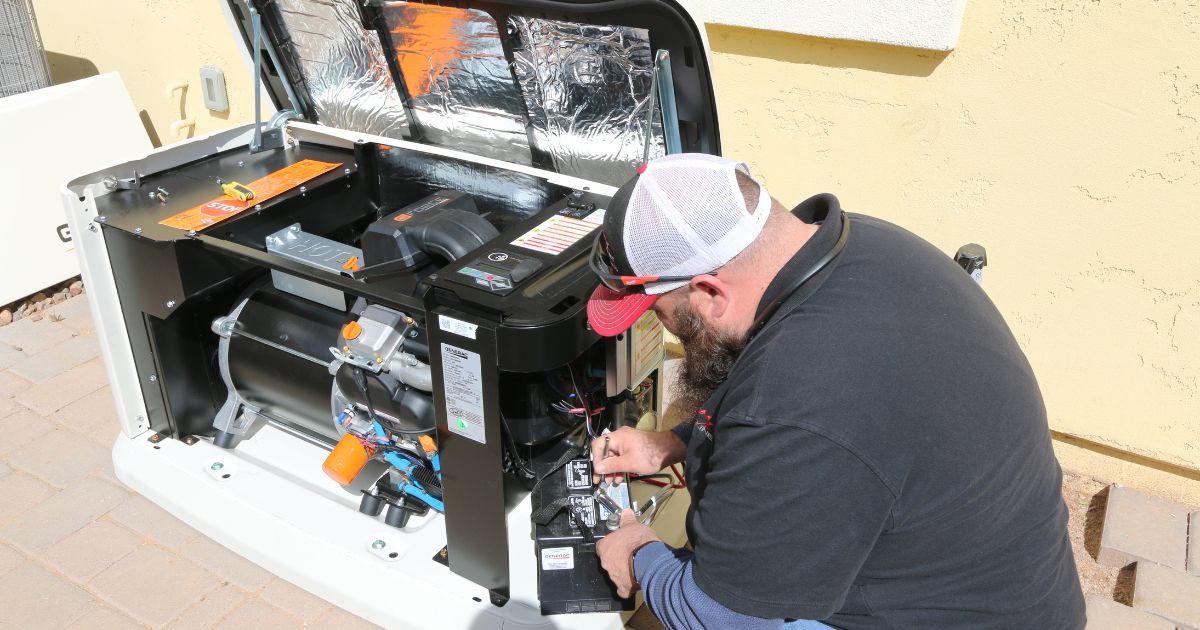 When shopping for a generator in Tempe, AZ, there are many factors to consider. The type of generator, size and power output, fuel source, noise level, and maintenance needs are all important factors to take into account.
The type of generator you select will be determined by the purpose you intend to use it for. If you need a generator strictly for emergency power, then a standby generator is your best option. Standby generators are connected directly to your home's electrical system and will automatically kick on when the power goes out. Portable generators are better suited for powering tools and equipment when working away from home, or for camping and recreational activities.
The size and power output of the generator is also important. You want to make sure the generator you select is powerful enough to meet your needs but not so large that it's overkill. Redline Electric & Solar can help you determine the size and power output that's best for your needs.
Redline Electric & Solar has the knowledge and expertise to help you select the best option for your needs. They can help you determine the type, size and power output, fuel source, noise level, and maintenance needs of your generator so that you can make an informed decision. With their help, you can be sure that your generator will provide reliable power for years to come.
What You Can Expect from Generator Installation & Repair
Redline Electric & Solar is a premier provider of full-service generator installation and repair services in Tempe, AZ. We have the expertise to handle all kinds of generator projects, from residential to commercial. Our experienced technicians are equipped with the latest tools and technologies to ensure that your generator is installed and repaired correctly. We use only top-quality parts and materials to guarantee the highest level of quality and safety.
Whether you need a generator for backup power in an emergency or to provide additional electricity for special events, our team can help. We can install and repair a variety of generators, including gas, diesel, and propane models. We also provide routine maintenance services to keep your generator running smoothly and safely. Our experienced technicians will inspect your generator and perform any necessary repairs or replacements. We'll also provide expert advice on proper maintenance, such as changing the oil and filters as needed.
With Redline Electric & Solar, you can rest assured that your generator will be installed and serviced correctly, keeping you safe and your home or business powered. Contact us today to learn more about our generator installation and repair services in Mesa, AZ. We look forward to helping you make sure your generator is running efficiently and safely.
---
Give us a call at 480-430-1939 to submit an online request form to get started with your solar or electrical services with Redline.
---
---
Our Latest Projects
---
Our team can handle an array of residential and commercial electrical projects. No matter if you are needing a new generator, or looking to illuminate your office space, Redline Electric & Solar is the right call!
Ratings & Reviews
Check Out Our 5-Star Reviews!
---
"I had several outlets that were suddenly without power. I checked the breaker. No problem there. Checked the outlets and couldn't find a problem. Redline Electric & Solar sent Rick out who diagnosed and fixed the problem. Good guy. Good price. Good company. Good result."

"Redline Electric & Solar provided the services as outlined in the quote. The technician showed up on time and was very professional and cordial. I like the fact that they give the customers whatever it they want done. I will definitely be using them again for future projects."

"I have been with Redline Electric & Solar for a number of years ranging from a smartflower system to panels. They are very responsive to my needs and highly recommend to anyone who wants to improve their home with reusable energy."

"All staff (and field personnel) were friendly and knowledgeable. When technician availability got squeezed, rather than making me wait for a custom fabricated generator-to-subpanel cable, their office reached out to offer direct pricing links to their suppliers to have one shipped directly to me. Above and beyond!"

"Great service and people. Thanks for doing a great job replacing our electrical panel. I'm no longer concerned about my house losing power. Would highly recommend again."

I was very pleased with my experience with Redline Electric. They were on time and had excellent communication across the board; from the estimator, schedulers, and technicians. Would definitely recommend and will use them again.

We hired Redline Electric to come in and add more electrical outlets to support our incoming equipment. The team was responsive and booked us for the next day! Thank you for your help & we look forward to working with you again!

Quick response, analyzed my problem same day and proposed both short-term and long-term fixes. Prices quoted for each option were 30-to-40% lower than the big-name company I had look at it first. Work was done next day and the tech showed me all the replaced parts and reasons for their replacement. I was extremely satisfied and will use them from now on for sure.